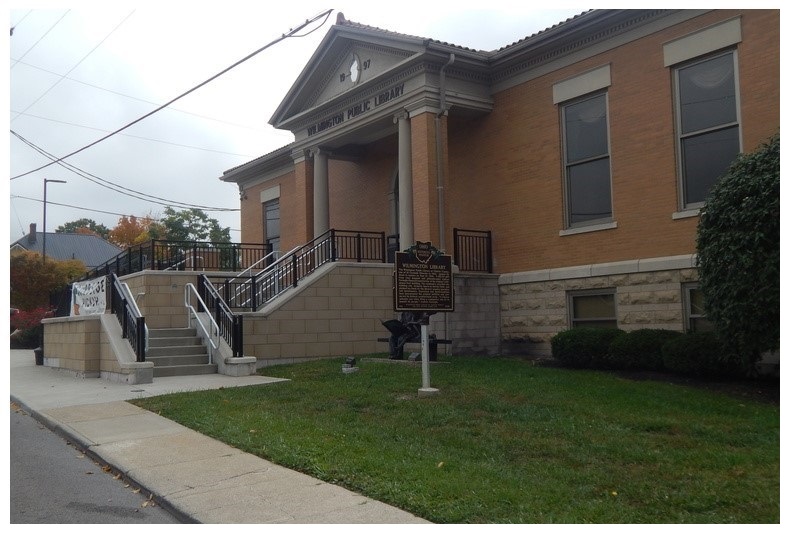 Wilmington Public Library was awarded an Ohio Historical Marker in 2016 after research and application was made by Pam Ade, Librarian. The Marker is located on the lawn on the west side of the front entrance of Wilmington Public Library. It was installed and dedicated on June 14, 2019. The delay was due to the library's major improvement project to the front entrance. 
Ohio Historical Markers identify, commemorate, and honor important people, places, things, or events that have contributed to the rich history of our state. The program is administered by the Ohio History Connection. Since 1957, the program has placed more than 1,700 markers that share Ohio's history. That number, however, changes constantly as approximately 20-30 new markers are placed every year. Clinton County boasts 13 Ohio Historical Markers. For a current listing by county, or information on how to apply, go to www.remarkableohio.org. 
The Wilmington Public Library merits recognition on an Ohio Historical Marker because it is one of one hundred eleven Carnegie libraries that were built in Ohio. Ohio has lost 10 of these buildings due to demolition or fire. Many have been abandoned due to the high cost of maintaining an aging building. Some have been sold and are being used for other purposes.
 
Beginning in 1881, Andrew Carnegie, steel magnate, and philanthropist, donated lump sums of money to communities to provide proper library buildings.  Through his generosity, approximately 1,679 libraries were built in the United States, and 2,509 were built worldwide. In return for his donation, the community had to commit to providing a site for the building, and to provide for its ongoing operation and maintenance with tax funds equal to 10 percent of the grant amount annually.  A public library from Andrew Carnegie offered communities "the solution to all of their educational, social, and cultural problems; and the key to success in the future". 
On February 4, 1902, Andrew Carnegie agreed to "furnish Ten Thousand Dollars to erect a Free Public Library Building". In June 1903, Mr. Carnegie was asked for an increase of $2,500, which was granted.
The Wilmington Library was opened for its readers on June 30, 1904. "The foundation of the building is of rough, grey stone, from which rise walls of buff, pressed brick, and the roof is red tile." "The building is an ornament and a source of pride to the town" (Wilmington News Journal). 
Through the years, the Wilmington Library has been added onto and renovated to better serve the needs of the community. The original Carnegie building still remains standing and is in use today as a part of the Wilmington Public Library.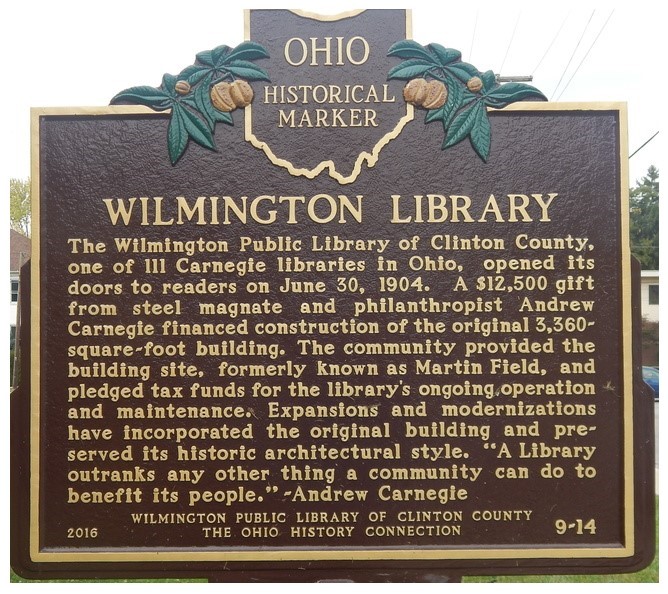 Historical Marker Text:
The Wilmington Public Library of Clinton County, one of 111 Carnegie libraries in Ohio, opened its doors to readers on June 30, 1904. A $12,500 gift from steel magnate and philanthropist Andrew Carnegie financed construction of the original 3,360-square-foot building. The community provided the building site, formerly known as Martin Field, and pledged tax funds for the library's ongoing operation and maintenance. Expansions and modernizations have incorporated the original building and preserved its historic architectural style. "A Library outranks any other thing a community can do to benefit its people." - Andrew Carnegie